SI Manchester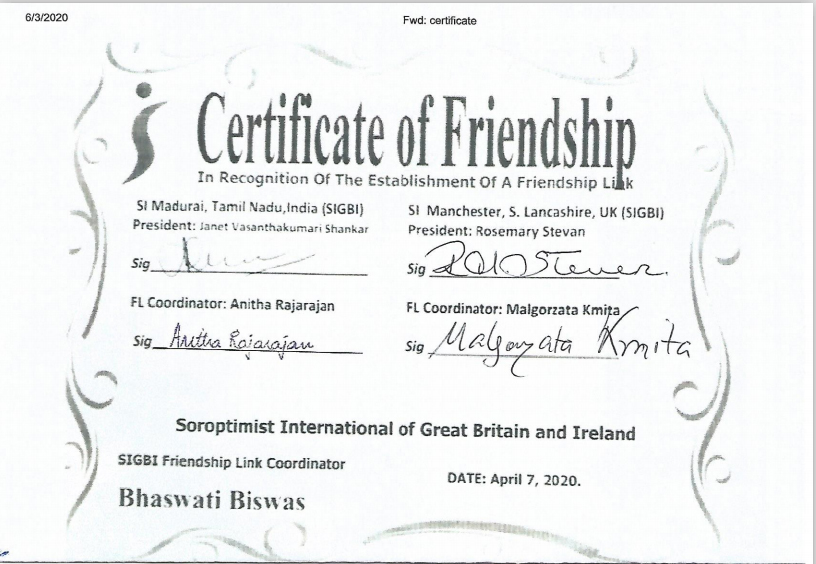 A Friendship links was created in June 2014 by Latha Abiruben with SI Christchurch through SI sister Lena Metcalf, President Elect. Latha Abiruben met with Lena metcalf in Christchurch and an  immediate bonding and friendship was achieved. Pins and gifts were exchanged. There onwards a lovely friendship link has been established between SI Madurai and SI Christchurch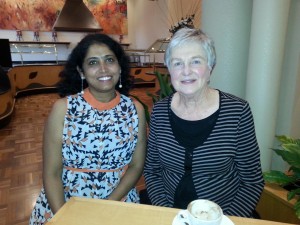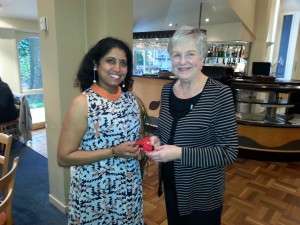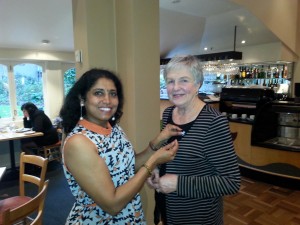 SI AALST
Machtelt and her husband Mark  from Belgium were on a holiday in kerala when they decided to visit the closest soroptimist club near them. They contacted Founder President Anitha Rajarajan who invited them to come over and spend the day with them. Anitha and jayanthi annamalai, founding member of SI Madurai spent a whole day with them and by the end of the day, Machtelt and Mark were so enthralled by the Indian hospitality and our projects that they expressed their desire to form a friendship link. This link between SI Madurai and SI Aalst  was formalised in 2016. Machtelt ,the President of SI Aalst came along  with Katrein, the incoming President of SI Aalst to Madurai for another visit  the following year. We have done a very important joint project with SI Aalst ie.  Setting up a smart class in Masathiyar Corporation school.
SI Dallas in Texas( of SI America federation)
On her visit to Texas, America, Anitha got in touch with Nanell Mawbey,the President of SI Dallas . Nannell organised a small dinner with a couple of her members and they decided to have a friendship link which was formalised in 2015.
SI Brisbane water( at Sydney, Australia)
SI Madurais 1st friendship link with  SI Brisbane water in Sydney, Australia in 2010.On one of her travels to Australia,  Anitha Rajarajan Visited SI Brisbane waters club meeting and was hosted by Rhonda White.Since she travels to Sydney regularly, she has been in constant touch with them over the years. This club is from the Southwest pacific federation She also had an opportunity to address the SISWPs regional meeting held at Sydney.
International Relations
General Consultative Status with the Economic and Social Council, United Nations (ECOSOC); Operational Relations with the United Nations Educational, Scientific & Cultural Organization (UNESCO); Special List of the International Labour Organization (ILO); Official Relations with the Food and Agriculture Organization (FAO); Consultative Status with the United Nations Industrial Development Organisation (UNIDO).