The Chellamuthu trust, has a hospital at Alagar koil for Residential Rehabilitation for mental illness,have a huge campus on the foot hills .As a result of this,when there is a heavy down pour,the water gushes down from the hill and into their campus washing away the top soil causing soil erosion.The Management requested me to create a rainforest along the border of the foot hills which will help in holding the soil together.Thus,started our Miyawaki project at Bodhi Campus.
The project involved digging a pit for 300ft with 21/2ft width and 3 feet depth.
This was done by a JCB,clearing out the thorny shrubs along the way.
Since it was at the foot hills,we came across a lot of small boulders and stones that had to be removed in order to make the soil more eco friendly for the roots to penetrate deeper.
This was not the case in Mahatma School,Alagar koil as the space allotted to us was away from the foot hills.
Collection of Debris also was a cumbersome task for the Management,as we needed to fill 300rft..
The Management bought saplings and a few saplings were also donated making it abt 320 now to plant.
The inmates were very enthusiastic to plant the saplings which gave us a lot of satisfaction.Also a lot of our Members gave us encouragement by attending the project even though it is quite a distance from the city.
We were very lucky with the rains that year This helped in the plants growing very fast.
The Management are very happy with the result and want to continue this for another 300ft,once the Carona Pandemic has come under control.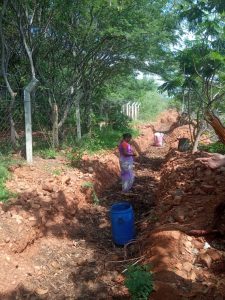 Clearing the pit of stones and rocks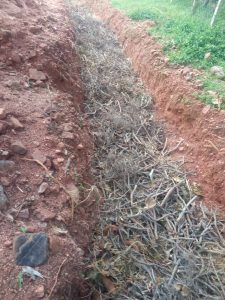 Filling the pit with twigs after 15days of digging the pit